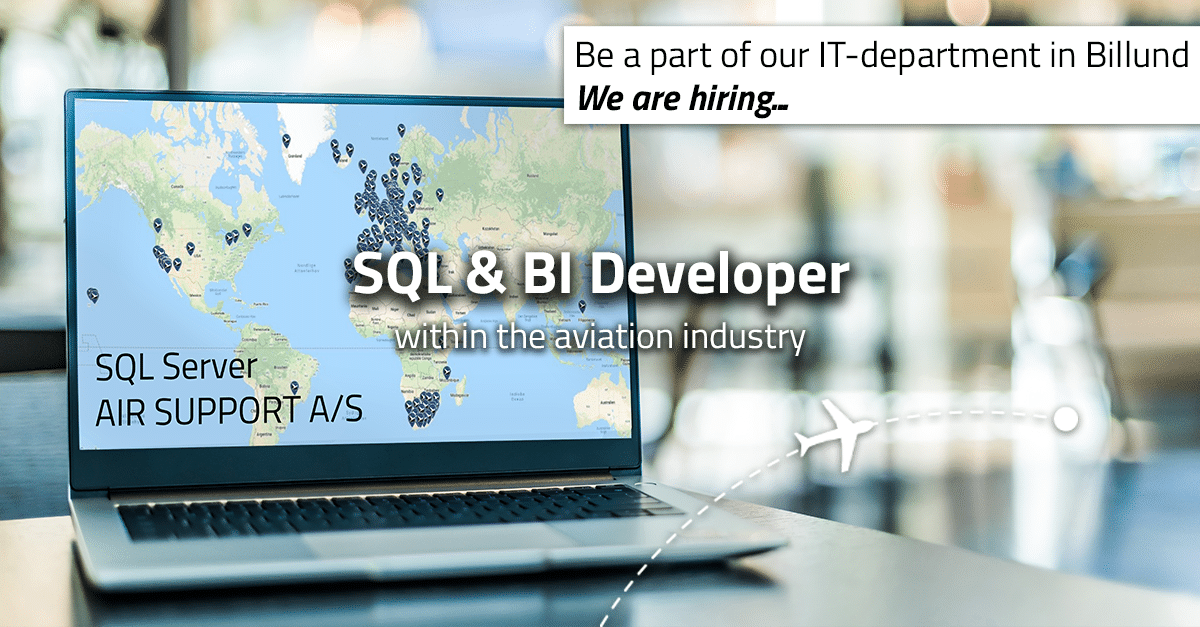 AIR SUPPORT is hiring a SQL/BI employee for our IT department in Billund.
(Read the Danish version here )
Over the past 30 years, AIR SUPPORT A/S has developed, delivered and supported software for aviation. We have 400+ customers worldwide and they use our products daily for planning and conducting their operations.
At any given time, there are almost 10,000 aircraft in the air worldwide. We collect data from these and provide live tracking data to airlines and airports all over the world.
Your primary tasks will be:
• Operation of all SQL
• Development of our BI – and in addition, you will be the:
• Responsible for BIG Data in AIR SUPPORT
• Responsible for data warehouse
• Development on CRM
A few words about us:
We are 60+ employees, of which about 20 are in the development team in our office in Odense. The head office is located at Billund Airport, where our salespeople, supporters and operations department are on a daily basis. Many employees have a background within freight and aircraft operation, and some are also working as aircraft/helicopter pilots. The joy of flying permeates AIR SUPPORT from top to bottom. And as we are located in the Billund Airport, all employers must be able to obtain access from the police.
We find it relevant to mention that AIR SUPPORT has generated a profit in 2020 without the use of the "corona support packages".
What is special about AIR SUPPORT? We work seriously and also value having fun at the same time. We prioritize time to think untraditionally and experiment when new features need to be developed and improvement of existing systems. In addition, the company has a clear strategy for the future, which means an ongoing stream of new and exciting tasks for the IT department.
Who we imagine you are:
If you would like to be a part of our community, we expect that you:
• have a documented education in SQL
• are passionate about coding
• have experience with cloud technology
• have solid programming skills in SQL
• have knowledge of Business Intelligence
We offer:
If you at times need to work from home to immerse yourself in your tasks, this is of course an option here. At the same time there is always a permanent desk ready for you in our Billund department, which is located with a view of Billund Airport. Here we have our own department with associated facilities such as canteen arrangement with freshly prepared food. We also offer a pension scheme, health insurance, and more.
Feel free to contact us today. We need you.
If you have questions about the position, these can be directed to IT Manager Thue Lykke at tl@airsupport.dk / +45 2127 0682
>> Send your application to job@airsupport <<