For governmental institutions
We provide system solutions to a range of governmental institutions focusing on the following:
High service-level-agreement

Security

Handling of sensitive data

Non-disclosure
World-Class Flight Planning System
OpsControl | Flight Watch
We provide advanced and secure system solutions to European governmental operations.
Mission Planning & Dispatching
PPS integrates seamlessly with your scheduled mission planning system data. This enables mission controllers to dispatch with ease and efficiency. Moreover, each squadron/mission can be dispatched separately and all flights can be saved and accessed later in-house on your secure servers in the event of a sudden internet outage. Operational discretion can be achieved by limiting flight planning to separate in-house workstations. When released, flight plans can be uploaded to CrewBriefing. Here, crew access restrictions can, of course, also be configured by dispatchers/mission controllers accordingly.
Useful Inflight Refuelling & Crash Airport Features
With the inflight refueling feature available in PPS, dispatchers can schedule an in-air fuel off-lift. Select the place/waypoint of the fuel off-lift easily and specify how much fuel to transfer and the time required. PPS will perform the necessary calculations and include the results in the operational flight plan.
The crash airport feature is designed for single-engine jets and displays a list of closest airports according to flight time in minutes in the event of engine malfunction.
Full & Secure Data Control
With PPS you get complete control of all aircraft performance data on your in-house servers – nothing needs to be stored on servers outside your organization. Unlike other systems where all data is typically stored in the cloud, you have full in-house control of your system and files.
Centralized/Decentralized System Control
Centralized/de-centralized system control of PPS is a feature used by most of our European governmental institutions. As a unit, each squadron/base has PPS installed onsite with multiple stations, making flight plans for that unit only. If the unit is not operational, the Centralized Control Unit (CCU) can continue making flight plans, provided the defense service and synchronization are enabled. This way, the CCU (usually located at a secure location) can monitor and assist the unit should it require assistance.
Border Intersection Tool
The Border Intersection Tool add-on in PPS will display both latitude and longitude of country borders, territorial water boundary crossings as well as entry/exit points (waypoints). Thus, diplomatic clearances and permits for your governmental defense operations can be requested very fast and easily.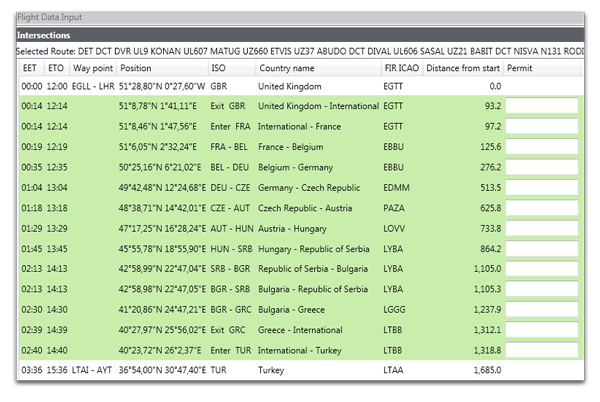 Subscribe to PPS News
PPS News is your one-stop source for the latest product news, company updates, expo highlights, case stories, tips & tricks, surveys and special event invitations - delivered directly to your inbox. Stay tuned!
I agree to receive PPS NEWS and know that I can unsubscribe at any time...