Premium flight tracking solutions – even in desert and mountainous areas
OpsControl | Flight Watch is a multi-purpose flight tracking platform fully integrated to PPS Flight Planning System offering gate-to-gate precision tracking via multiple tracking sources such as Acars, ADS-B, Satellite data as well as local radar coverage.
AIR SUPPORT has designed OpsControl for global aviation coverage and is heavily engaged in the development in the sub-Saharan regions and in South Africa.
OpsControl goes beyond simple aircraft tracking by offering active warnings and notifications to operations control centers as well as advanced post flight data for flight performance analysis.
It's a next-gen situational awareness platform, assisting operations with vital information concerning flights and in particular, providing notifications about abnormal situations. Management by Exception to it's full extend!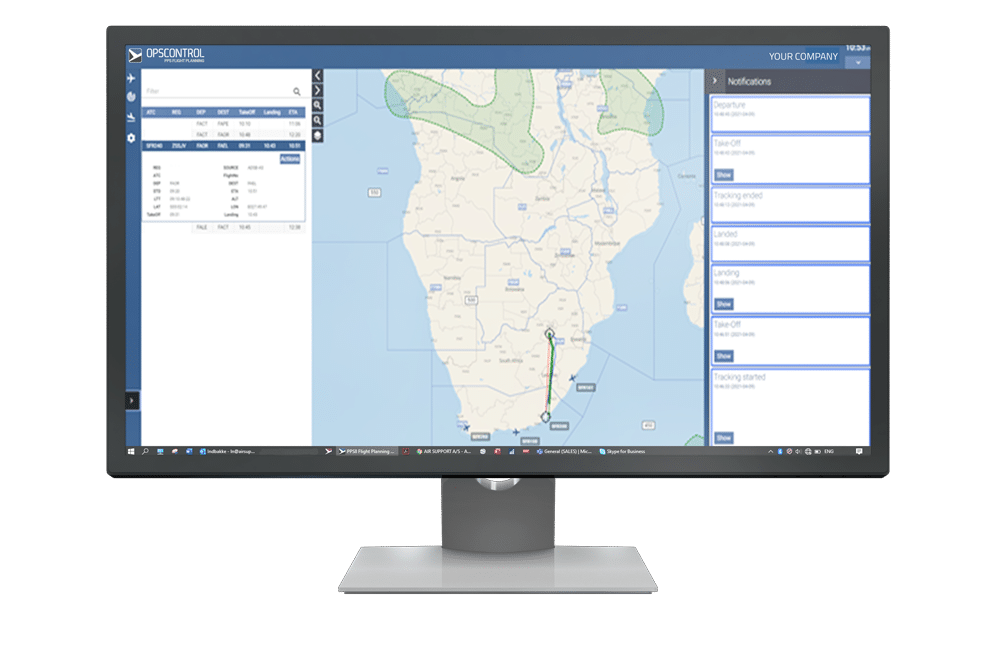 ADS-B Coming to Southern Africa – Here's How…
Read AvBuyers full article here
ICAO mandate (GADSS – Global Aeronautical Distress & Safety System)
The notification center in OpsControl will help operators meet requirements set out by ICAO and controlled by local aviation authorities concerning flight tracking. Here, operators are required to have a tool that provides active warnings in case aircraft position is lost.
To achieve the ultimate target of getting high precision gate-to-gate data in South Africa, AIR SUPPORT has, during 2020, been deploying a complete network of its own ADS-B receiver network all over the South African area.
The ADS-B receivers meet aviation quality demands for stability, durability, and connectivity. All receivers are directly communicating via AIR SUPPORT's servers and provide anonymous data to operators.
And most importantly, the network will ensure operators respect tracking demands set out by aviation authorities.
AIR SUPPORT's ADS-B receiver network in South Africa
The network consists of multiple strategically placed ADS-B receivers providing full coverage in South Africa as well as surrounding countries. Each receiver tracks aircraft within ranges up to 250 nm depending on various conditions. The receivers are constantly monitored remotely via direct access. In case of power shredding a 4G modem is coupled to the receiver to ensure high online capability. Data transmitted back to operators using OpsControl is kept anonymous between operator and AIR SUPPORT.
The ADS-B network is expanding far beyond South Africa. Currently several projects are being completed in co-operation with AIR SUPPORT's customers with the purpose of getting expanded coverage in the surrounding countries.
Example of ADS-B coverage in South Africa: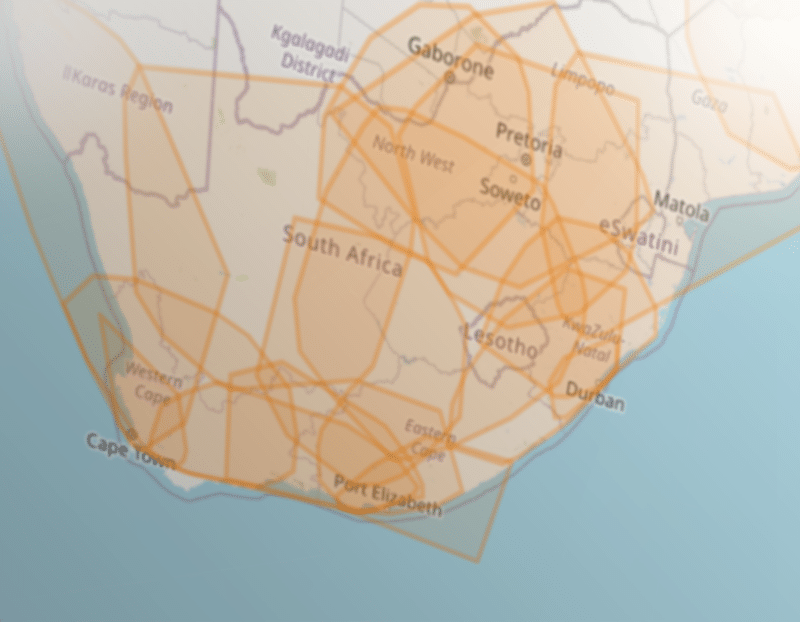 Multiple tracking sources available
Apart from Air Support's private ADS-B network, a variety of tracking sources are available to the Flight Watch solution. The fact that multiple tracking sources are available ensures that operators can track aircraft anytime and anywhere on the globe.
Typical additional tracking sources are:
Satellite based ADS-B
ACARS
Local radar coverage
GPS tracking units
3rd party ADS-B sources