Do you have the full overview of your NOTAMS?
Did you know that NOTAMs in PPS Flight Planning System and CrewBriefing can be highlighted?
A common challenge for flight operations is navigating around the big number of NOTAMs that often are spread over several pages. Identifying NOTAMs that could potentially contradict flight safety becomes time-consuming and there is a risk of missing out on important information? Important information that could impact flight safety.
The new PPS and CrewBriefing feature HIGHLIGHT SPECIFIED KEY WORDS (NOTAMs) is a great helping tool for any flight operation. Read more below the image…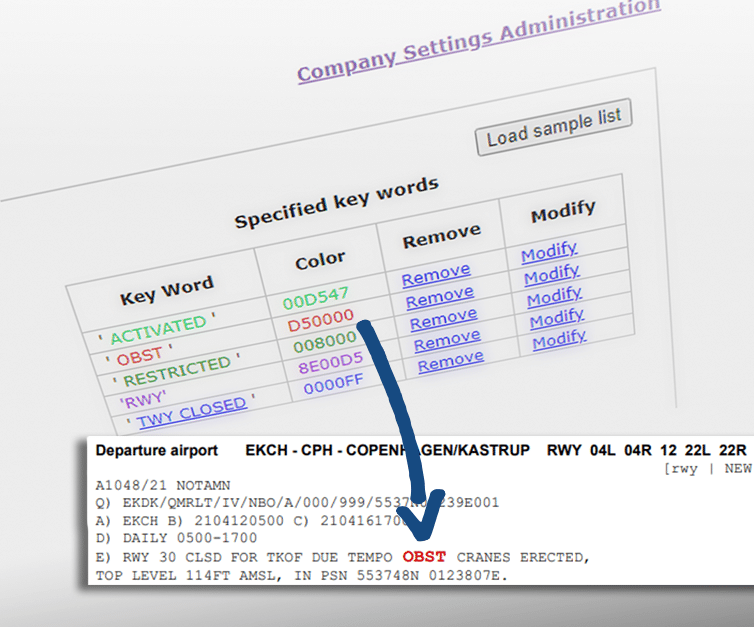 Users can now set up dedicated keywords that will trigger a NOTAM highlight in the PPS Flight Planning System during the calculation of the flight plan as well as on the crew briefing package.
The keywords are selected by the user and can be highlighted with dedicated colors as well as word underlining. Colors can be chosen based on the degree of severity e.g. from Red to Yellow to Blue.
Highlighted NOTAMs stand out clearly from the rest and draw the attention of the dispatcher as well as crew to the right places in the NOTAM section. Thereby enhancing work efficiency as well as flight safety.
Typical examples of highlighted words used by operators could be CLOSED AIRWAYS, CLOSED RUNWAY, CLOSED AIRSPACE, DANGER, PROHIBITED, RESTRICTED ETC. Additional often used examples are fractions of words to ensure to cover different NOTAM formatting e.g. CLSD (Closed) or MIL (Military).
Do you want to learn even more about administrating your CrewBriefing account go to the manual on the help center:
>> Access updated CrewBriefing features <<
>> Learn more about CrewBriefing <<
Do not hesitate to contact our Support Team to get support: Email support@airsupport.dk or call +45 7060 5530