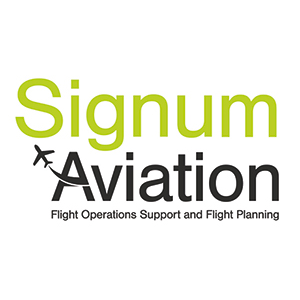 ABOUT SIGNUM AVIATION
Signum Aviation was founded in 2007 with just one client, and today they are responsible for handling of
more than 20.000 flights per year. Their clients are located in both North America, Europe, Africa, China
and the Middle East. It is a global company that has the capacity to handle all kinds of operators; private,
commercial and military.
The dedicated team of 15 Operations Controllers is available 24-hours a day seven days a week, enabling
immediate response to any aviation situation. Since the business is growing, the Signum Aviation team is
looking to expand, but they are still true to their founding principal of being the best, not the biggest.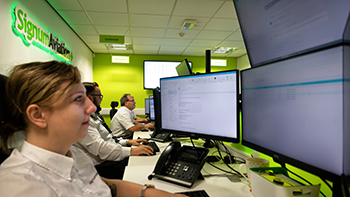 ENSURING A CUSTOMER-CENTRIC APPROACH: NOT BEING THE BIGGEST, BUT BEING THE BEST
In an industry where global customers have different requirements and demands, Signum Aviation delivers the best possible service on a worldwide level. That means providing 24-hour support – 7 days a week – 365 days a year. Being the best, not the biggest, which is Signum Aviation's founding principal, means quality over quantity – and no two clients or days are the same. This makes considerable demands on the software they use, which needs to be easy to use and possible to customize. Therefore, Signum Aviation has been using the PPS Flight Planning System (PPS) for several years now: "The manuals provided for PPS are well written and simple to understand", says Sam Towler, Senior Operations Controller at Signum Aviation.
EASY ROUTE GENERATION – ALSO FOR LONG-RANGE PLANNING
Signum Aviation handles operations for clients worldwide, so the ability to create many different routes in the most optimum way is crucial to their award-winning operations support service. They provide many different types of services for over 90 different aircraft – ranging from Citation Mustang's to Boeing 777's. Included in this service offering is flight planning, ground handling setup, fuel arrangement, weight and balance, overflight permits and landing permits, along with many more bespoke client requests.
When working with route generation, Signum Aviation benefits from PPS' long-range planning capabilities. The system provides three different ways of creating routes:
• Generate auto-route
• FastRouting
• Building your own route
"The ability to have those three options with wind profiles and temperatures – they make a crucial difference in really tight scenarios. The flight planning tools prove crucial when we are planning long flights that push the edge of the aircraft capability. An example of this was when we planned a G650 routing from Nice to Bali, at 15.5 hours this required all the advanced features of PPS to be utilized by the operations team to ensure that we would meet the requirement our client had for a direct flight", Sam Towler states.
When operating in Europe, Signum Aviation needs its plans to conform to IFPS. Automatic route generations are quick and very accurate – just what they need in terms of economy and performance.
When looking at the parameters for routes, Signum Aviation finds time- and fuel burn as key factors. The PPS Flight Planning System shows route comparisons, which is easy for them to read and use to their advantage.

24/7 SUPPORT IS CRUCIAL IN THE AVIATION INDUSTRY
Fast and efficient support from knowledgeable people is crucial. Sam Towler describes their experience with the Support Team "it is like the person is sitting next to you, because we work closely with them", and he elaborates: "They're very approachable and the relationship built up over many years is strong. 24/7 support is crucial in this industry regardless of what sector you work in. We know that when we pick up the phone, there will be someone at the other end who knows exactly who we are, what we require and how to get the issue resolved in the most optimum way", Sam Towler describes.
Furthermore, Signum Aviation runs the PPS Flight Planning System in a hosted environment. "Running PPS in a hosted environment has shown a significant increase in performance of the software. Subsequently, this gives the operations team more confidence knowing that the flight planning system is robust and resilient, this allows our team to more efficiently deal with the daily workload", Sam Towler says.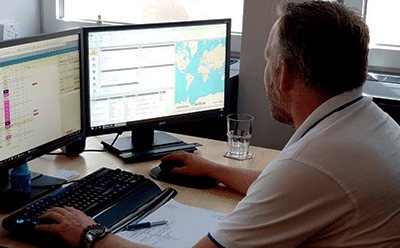 ABOUT X-OPERATIONS With office locations downtown Innsbruck in Austria, X-Operations offers all flight services needed by both commercial and non-commercial aircraft operators in the business...