Booth E18 Aircraft Commerce, Miami

The expo calendar is on and we are soon heading to the Hilton Downtown Miami Hotel for the Airline & Aerospace MRO & Flight Ops IT Conference – Americas. Our Area Manager Lasse Nilsson is fully ready to meet and greet at booth E18 (see the full floor plan here: . Today also marks the start of our Expo VLOG 2020, a video series covering our presence at different exhibitions throughout the year. If you haven't done it already, make sure to follow us on LinkedIn to get updated on when and where to meet us.
Feel free to contact Lasse Nilsson directly via LN@airsupport.dk or +45 7688 8935, if you would like to schedule an onsite demo/meeting.
ABOUT THE SHOW
The Airline & Aerospace MRO & Flight Ops IT Conference – Americas includes an exhibition with more than 50 different leading MRO/M&E & Flight Operations IT software and hardware vendors from all over the globe. The agenda for the conference includes keynote presentations, case studies, interactive workshops, and IT Vendor Showcases – all delivered by airlines, aircraft operators, OEMs, MROs, Consultants, Regulators and IT Vendors to provide delegates with varied and interesting insights into the key topics in this constantly evolving aviation sector. The conference is the only one in the world addressing the key issues relating to the development of IT and the key role it plays within aircraft maintenance and flight operations.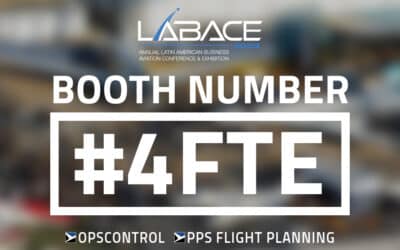 The countdown for LABACE 2023Let's talk optimzing your cost in flight planning, state-of-the-art CrewBriefing app, and how to track your entire fleet and be GADSS compliant with OpsControl. Meet our product specialist Matias Magnasco at booth 4FTE and discover how the...