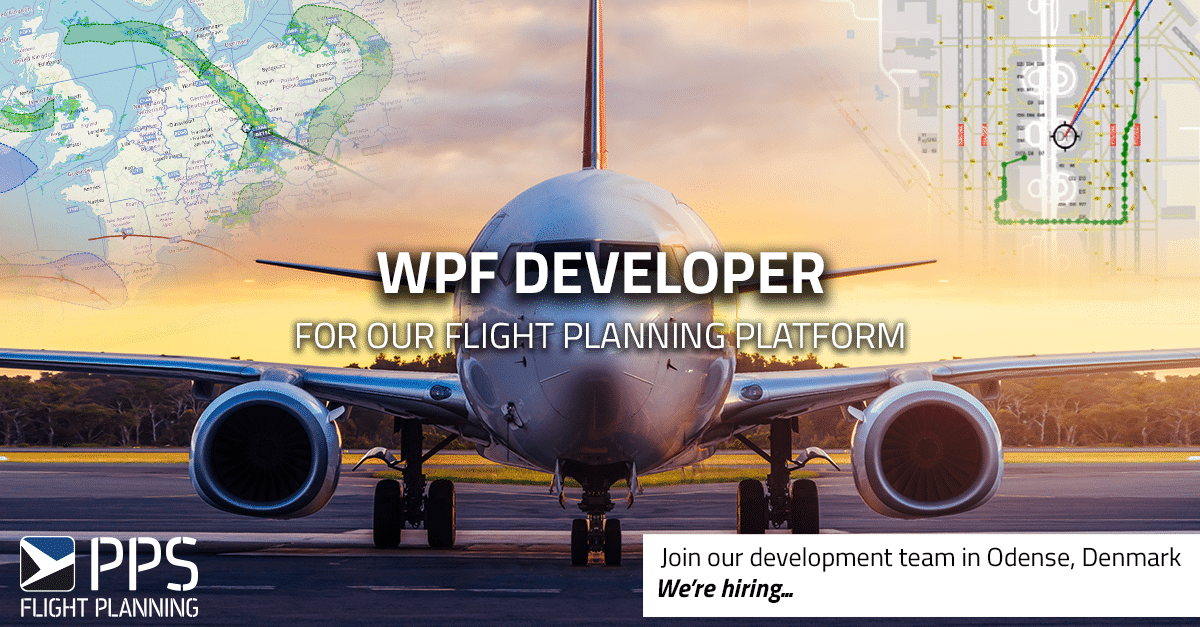 Are you our new software/it developer (WPF) to our PPS flight planning platform?
We are looking for an experienced WPF-developer to help us further develop the software that keeps our customers' aircraft in the air on a daily basis.
For more than 30 years, we have been providing software to customers in most of the world. Our customers include both large and small aircraft operators and airlines in Europe, USA, Asia and Africa.
We are approx. 60 employees, of which about 20 are in the development department in Odense. The head office is located at Billund Airport, where our salespeople and supporters and operations department are daily. These are mainly made up of pilots and others with a background based in aviation.
"That I get time and freedom to create my code of a good quality, and we make code reviews on each other's work."
The joy of flying is infused through the company from top to bottom. We have a flat organizational structure, good development opportunities and advantageous employment relationships.
We consider it relevant to state that AIR SUPPORT generated profits in 2020 without the use of the government's corona support packages.
Your new job You will be part of a development department of approx. 20 employees who work in smaller agile teams with dedicated SCRUM masters attached. We always work with the latest technologies and appreciate sharing knowledge across teams. You will be primarily working on our flight planning platform and will help to upskill the entire product portfolio for our new software platform. This is in addition to helping drive the architecture forward.
"In AIR SUPPORT, you get a workplace that cares and takes good care of their employees."
We offer If you sometimes need to work from home to immerse yourself in a task, this is of course an option with us. But there is always a fixed desk ready for you in our Odense department, which is located in Forskerparken near SDU. Here we have our own department with facilities, such as freshly prepared food provided for lunch from our own kitchen in the canteen, parking with charging stands, as well as the possibility of extra services such as neck and shoulder massage, bicycle check, etc.
Your background
You are passionate about developing desktop applications and excel within WPF. If you also have a flair for UX, you are exactly who we are looking for. You may be an AP graduate, engineer or have a master of science (MSc) in computer science, but most importantly, you have several years of experience from a similar job and can apply it to one of the most important products on the market for flight planning. Please write or call us today. We need you.
Application and contact
Send your application labeled "WPF developer" with CV and other relevant annexes to
job@airsupport.dk
 – before 30 June 2021. We will be holding interviews on an ongoing basis. If you have any questions about the job, you are welcome to contact CTO Michael Jensby on
+45 6021 8024
. Read more about our company >
https://ppsflightplanning.com/about-us/